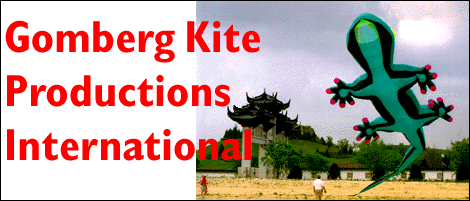 Gomberg Kite Productions and G-Kites is now Closed.
Were a bit ahead of our plan to retire at the end of 2020. Gomberg Kites has made arrangements to transfer all remaining inventory to an Oregon kite retail store. Our retirement sale is over. We have nothing left!
No we're not holding anything back that we'll sell you if you ask nicely. We really have nothing left. ?? Sorry for the lack of warning. Sorry if you waited too long.
If you are looking for our kites, check https://thekitecompany.com/. Please give them time to add our designs to their site.
If you are looking for parts or fittings, please visit www.FlyMarketKites.com or email info@flymarketkites.com. They have a list of all our kites and specs.
Some of our larger SkyForms and inflatable designs have been sold to Weifang Kites. Contact Monica Lou at monica@kaixuankite.cn.
We incorporated in 1987. It has been a remarkable 33 years. We have traveled the world, visited 40 countries, and attended a thousand festivals. We have brought the newest and most interesting kite designs to the market. We've flown for motion pictures, Walt Disney, the Super Bowl, and the London Millennium Celebration. We unveiled our first web page in 1996, published 600 weekly updates of news and travel, wrote three books, and opened three kite stores (which we gave to our managers five years ago). We were president of the AKA an unprecedented ten times and led the Kite Trade Association three terms. We have been inducted into the Kite Hall of Fame (next to Ben Franklin and the Wright Brothers!) and were presented the lifetime achievement Edeiken Award – twice (the second time we declined it which has never been done before or since). We've spent a lifetime spreading the joys of kiting, kite knowledge, and kite friendships.
After 33 great years – and after our best year ever - we are ready for new adventures.
We value each of you and our long association and friendship. Thanks so much for being part of our lives and making our business something special. Keep flying! Keep smiling up at the sky. And keep spreading the joy.
Good winds!
David and Susan
---
On the pages that follow, we hope to share with you the excitement that kiting offers on a global scale.
GKPI has specialized in big Show Kites, Inflatables, Tails, and Line Laundry. For three decades, we travled the kite world and reported our adventures in Weekly Updates. We published three books that are now online here.
If you are interested in flying lessons, try the How to Fly section for details on single-line, sport kites, and kite fighting. Specialized flying instructions for our larger kites are in our Frequently Asked Questions.
Interested in kite history or how to build your own kite? In our Educational Pages, we offer materials for schools and teachers.
Finally,we tell you a little more about ourselves and our interests in the Personal Page.
The history, art, technology, sport, and industry of kiting is wonderfully diverse. And wherever you turn, there is more fun to be found.
We're glad you joined us.
Weekly Update Archive
More than 600 essays of trip and festival reports, photos, news, new products, and contemporary kite history.

Frequently Asked Questions
Tons of information for large kites, lifters, safety, tuning, and anchoring.

How to Fly
Kites as an Educational Tool
Use kites in the classroom to teach about History, Science, and Art.


Workshop Instructions and Simple Kite Plans.

Kite History and Inventor Profiles.

Photos of Kites from Around the World.

Information on Wind and How a Kite Flies.

A little bit about David and Susan


---
All content are copyrighted and all rights are reserved.
Republication of any text or images with written consent only.
Questions and comments should be directed to: Webmaster@GombergKites.com